Written by Mark Kallus, Owner & Broker
Houston's Local Property Management Experts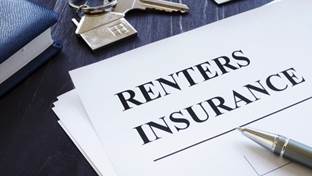 Top 4-Reasons You Need Renter's Insurance!!
Top 4-Reasons You Need Renter's Insurance!!
Mason Kallus is one of Goosehead Insurance Top Insurance Agents, explains the importance of having adequate insurance coverage.
Why is Renters Insurance important? Renter's Insurance is important for the following reasons.
We work with numerous companies ranging from Progressive, Travelers, Nationwide, Liberty Mutual, Allstate, and many more! We write Home, Auto, Renter's, Flood, Umbrella, Boat, and Dwellings. In our experience, we have seen many people lose all of their possessions because they did not have coverage.
Common misconceptions like, "My landlord's policy will cover me" and "I don't have that much stuff or anything worth that much" may factor into the low percentage. But if something were to happen to your home, it could be financially devastating even if you're renting. Regardless of the value of your possessions, there are many other instances where renters' Insurance is key to helping you stay financially sound.
Look at the top reasons you need renters' Insurance. Then, give me a call to see what kind of coverage is best for your situation.
Protect your personal possessions.
If something were to happen to your apartment or home, your landlord's insurance policy would cover the structure, as well as all cabinets, appliances, and other property that he or she owns. However, your personal property, like your TV, furniture, laptop, clothing, food, beds, etc., is not covered under your landlord's policy. Renters' Insurance is completely separate and is the Renter's responsibility. Renter's Insurance can help cover costs to replace your belongings after covered events, such as fire and robbery.
** Tip: Ask if your policy covers the Actual Cash Value or Replacement Cost of your belongings. Replacement Cost covers the full amount to repair or replace the item. Actual Cash Value will reimburse you for the Depreciated Value or how much the item is worth in its current condition, accounting for normal wear and tear over the years. 
Create a safety net for liability costs.
It's easy to dismiss the need for liability coverage and think, "My guests won't sue me." But what if your dog bites a neighbor? Or you leave the oven on, and it causes a fire and damages the property?
If you are negligent or at fault for damage to your landlord, fellow tenants, guests, or their property, the liability coverage in renters' Insurance can help cover litigation expenses and any other costs for which you are held accountable.
Know you can afford temporary housing away from your home.
If there's a disaster that makes your apartment or home uninhabitable, renters' Insurance may help cover additional living expenses if you need to relocate. 
Did you know that you must request a Flood Insurance Endorsement to be added to your Renter's Insurance to have proper Flood Coverage?
Make sure you work with an experienced Insurance Agent who knows the different options available to you for your particular needs.
Give Mason Kallus Insurance Agent for Goosehead Insurance a call at 713-324-9017 or click on the
Get Free Insurance Quote to get you started.