Written by Mark Kallus, Owner & Broker
Houston's Local Property Management Experts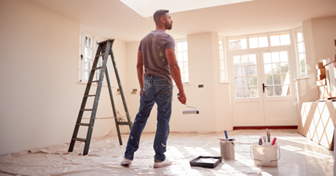 Buying a Fixer-Upper: 4 Things to Know
Buying a Fixer-Upper: 4 Things to Know
September 17, 2021
In today's busy market, many Real Estate Investors have found themselves weighing options they would normally pass by.
One of the more common compromises is to consider a home that needs some work.
On the plus side, fixer-uppers often come with lower prices, less competition, and a lower-pressure sale on the whole. Still, they're not without challenges.
Are you considering a fixer-upper? Here are five things to think about first. 
You may need an alternative mortgage program.If you want to finance the Investment home purchase and the renovations and repairs the property needs, you might consider loans like the FHA 203(k) loan or the Fannie Mae HomeStyle loan. Your loan officer can help you choose the best option for your purchase.
There may be appraisal and inspection issues.If the home is in disrepair, you might face challenges with your inspection or appraisal. This is especially true if you're using an FHA, USDA, or VA loan, as properties must meet strict requirements with these programs.
You should have a backup living space.You might not want to end your lease or sell your existing home just yet. If the property needs serious repairs or renovations, you'll probably need to live off-site until they're complete.
Be prepared for problems below the surface.Not all issues will be visible in a fixer-upper. There may be major problems lurking below the surface (like mold or termites, for example) that won't crop up until later. Make sure you leave wiggle room in your budget to account for these potential surprises.
Fixer-uppers are just one of the many options you have when buying a home. Have questions or need more help with your home buying journey? Reach out today.
A qualified agent with years of experience in the real estate market can help you determine the best improvements to make based on your particular market. When you are ready to learn more, connect with us today. We're happy to help!
For more information can be found at www.rentlifepm.com or by contacting RentLife® Property Management's press contact Mark Kallus at 832-562-3600 or mark@rentlifepm.com. Alternatively, the company can be reached by its postal address at 14010 Alice Road, Tomball, Texas 77377.